Real conversations with women about the impact makeup has on their lives.
Twitter | Instagram | Facebook
"What you don't get to see, and I wish you could, is you don't get to see yourself at your best."

Samantha
"I'm a student at Trinity, as well as a singer, and it's actually being a singer that I want to talk about. What draws us to singing? What draws us to storytelling? These ideas of people that are bigger than life, that are basically almost like these deities. But if TV and movies are smoke and mirror, then I can tell you that the stage is kind of the same way, and there's certain irony to that. You're getting to the core of these characters. You're experiencing their loves, their hates, their losses, their joys; and you're covered in three layers of makeup.
I was not considered a pretty girl growing up. And I really only felt confident when I had a ton of makeup on, hiding all the little bumps and dots, hiding the dark circles; trying to look cute- you know?
But I learnt something recently while going through old cast photos of a show I that I was in. I was thinking of how in every photo I'm blinking or have my mouth open at a weird angle. But what they don't capture, or what they do capture and I failed to realize I suppose, was the absolute joy of those moments. Getting to sing, getting to tell a story. Getting to watch people's faces light up when I sang something they knew, or something they remembered.
I want to tell everyone reading this, whether you have acne like me or you have smooth skin, or you have freckles that you're nervous about, or anything that you feel just precludes you from this like group of pretty that's up here, and the rest of us are down here with our snotty noses and Dickensian orphan looks. It's that you, unfortunately, do not have the benefit of seeing yourself the way that other people see you. That saying that beauty is in the eye of the beholder is absolutely true. You see yourself in the mirror, you see yourself in shop windows passing by, you see yourself before the makeup goes on and after the makeup goes on you see yourself in all the many selfies you try to take. And I'm not saying that those selfies aren't great. Keep taking those selfies, we want to see more of your lovely face, whether it's makeuped or not, but what you don't get to see, and I wish you could, is you don't get to see yourself at your best.
You don't get to see the ways your eyes light up when you tell someone a good joke or you're getting to the punchline and you've got like that little 'ha ha ha! I have a punchline for ya!'. You don't get to see yourself through the eyes of your friends and your family when you're just being you and those people look at you and see someone they love so, so much. You don't get to see how your eyes light up when you see something you love. How absolutely magnificent you look when you're singing and dancing in your PJ's to your favourite song, or you're just in the car bopping it out.
You don't get to see yourself through your friends eyes, or your partners eyes, or a family members eyes when you're comforting them on a bad day.
All of the things that make beauty beauty, that take us beyond the smoothness of the filters, the pop of the eyes, the eyeliner, the lipstick, the perfect hair- all of those things are not what beauty is. They're a facet of what beauty is. But I think beauty goes deeper than that. It goes back to that, again, amalgamation of who you were, who you are, who you're gonna be. And all the processes you have to take to get there. So, you know what, keep doing your makeup if that's what you like. Don't do your makeup if that's not what you like. Know that you are good and you're worthy either way.
And also remember to take the time – I've always said that kindness and love are talents, yes, some people have a talent for kindness and a talent for love, but in the biz, talent is about ten percent of it. Ninety percent of it is showing up and doing the work. So, as you're nurturing this love and kindness towards yourself, remember that some days it will come easy. But other days, you have to work on it. Give yourself the same kind of love that you give to your friends and family on a daily basis. And try to look at yourself through their eyes."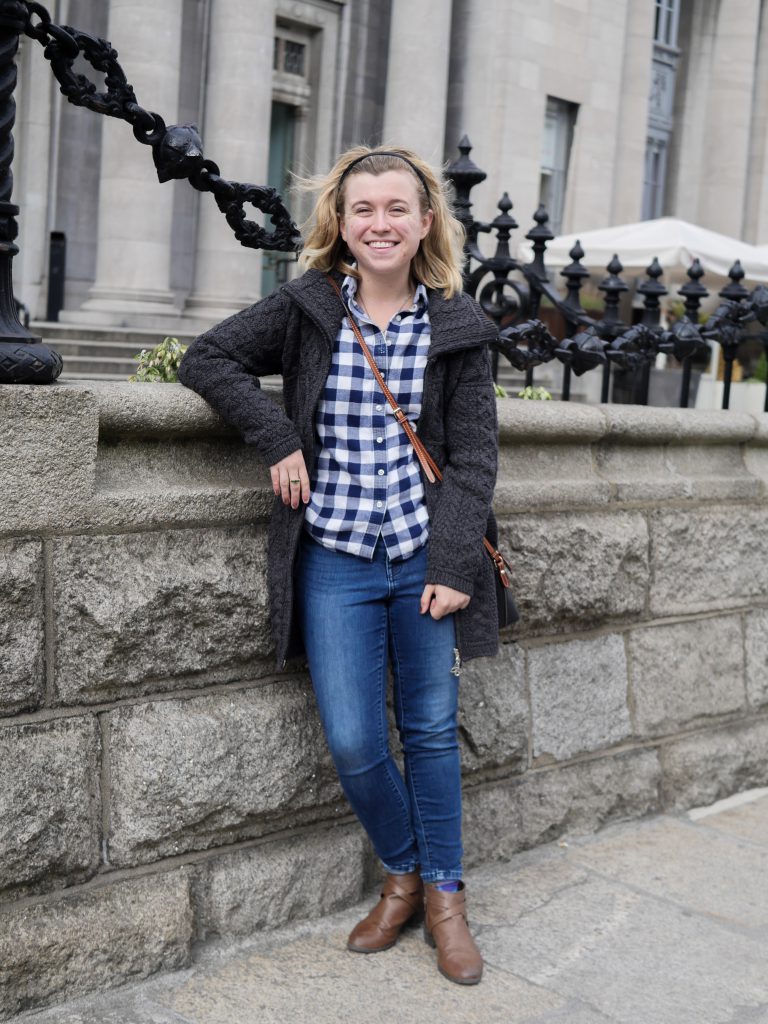 "I do think it's disingenuous to pretend that there's no expectation to look pretty. I think makeup promoters are really disingenuous when they say they aren't part of an industry which ultimately extorts women out of so much money based off of their insecurities. But I feel it's equally disingenuous to pretend that not fitting into a certain kind of femininity doesn't have consequences for people. I want people to know that I support them in whatever decision they make, so long as it's good for them. You just have to find who you are.
Your idea of who you are, and of what beauty is to you, it changes. I used to think beauty was a completely different standard, and I tried so hard to mold myself to those standards, my god. And I know I say this as a tiny blonde girl; there are people who have to deal with way more alienation than I ever will.
But beauty is so much more than that. There are so many different kinds of beauty. If I could, my Saint, Saint Therese of Lisieux actually had some choice words on beauty. She's a doctor of the church and a philosopher, so you should listen to her and not me! But here's what she wrote:
"The splendor of the rose and the whiteness of the lily
do not rob the little violet of it's scent nor the daisy of its simple charm.
If every tiny flower wanted to be a rose, spring would lose its loveliness."
And I really like that. She was an advocate of being simple, and little, and yourself, and trusting that that's good. Trusting in the innate goodness of yourself. And in a world that kind of contradicts that, a world which tells you 'no, you're not good; there's so much not good about you,' having the courage to believe that innately you are good, with your cystic acne and all, is a lot. And I don't just mean cystic acne, I mean all the hurts and stuff we go through. All the bumps and bruises that manifest in the soul. And that's way harder to do. So kudos to everyone out there making it through the day. I see you. You're doing this."
You mentioned that there are very real ramifications for women who don't wear makeup. What do you mean?
"I saw this for a lot of my friends out there who are transgender women, a lot of people, trans-exclusionary radical feminists and so on, will say 'well look at you, you're putting on all this makeup and wearing dresses, is that what womanhood is to you? Isn't womanhood more nuanced?'
And as a cisgender woman, yeah? Isn't womanhood more than that, society that enforces those rules on us? That doesn't take us seriously as women already if we don't submit to those things on a day to day basis? I cannot blame somebody who is a transgender woman for wanting to match that ideal of femininity because it's the only way they feel they can be taken seriously as women. And their womanhood goes down to the soul. It's way more than just what they wear.
A lot of women who are not cisgendered women feel like they have to match these ideals of femininity just so they'll be taken seriously as women, which is nonsense. Being a woman is so much more than that: you shouldn't have to feel that way. There's a huge difference between doing something because you want to, and doing something because you have to. For those who do want to wear a lot of makeup, you go, teach me how, show me your ways! But for those who don't, you're just as valid as a woman. Women are much more than a feminine body; whatever that means.
And another ramification I feel is not being taken seriously in our field. One of the big issues I have with some of the aspects of the body positive movement (as somebody who's a big proponent of the body positive moment) I believe we need to expand our idea of beautiful. And I love seeing women owning their skin, and feeling comfortable in their bodies. I love seeing men do it too. But the one thing I don't agree with per say, and I don't think it's a message that's purposely pushed by the movement, is that beauty is a prerequisite for dignity and respect.
That if someone finds you desirable, they will necessarily treat you with more dignity and respect. But we've seen time and time again that that's not true for women. And I feel that one of the things with beauty that's kind of made this beauty culture toxic, is that beauty is seen as a prerequisite for kindness towards women. For respect towards women. I mean, when a guy tells you 'I respect all women' in the face of you talking to him about misogynistic behavior, you might want to ask him 'but is it only women that you find attractive that you're respectful and kind to?'.
And, you know, we ladies have to think about how we talk to other women too. I mean, we put somebody else down because she doesn't want to shave her legs, doesn't want to shave her armpits, doesn't want to wear makeup. We have to encourage each other. In this world, things are difficult enough as is, and we need each other. And we need guys to step up too. At the end of the day, all we've got on this little floating marble in space is each other. With all our weirdnesses, all of our weird faces, with or without makeup, and we do need to be kinder to each other because of it.
And we need to remember that through respecting people and understanding them, you will find beauty that goes beyond the first glance. And when you limit your respect and understanding based on how initially beautiful you find a person you're shutting out entire universes of people that could blow your mind. So I encourage that: find beauty through respecting and understanding others, and getting to know them. Not just through that first cursory look."
Real conversations with real women about the impact makeup has on their lives.
Twitter | Instagram | Facebook