Real conversations with women about the impact makeup has on their lives.
Twitter | Instagram | Facebook
"For exams and competitions and concerts… if you go to any of those without makeup, or without having a fancy dress, people don't respond to it well."

Jade
"I would usually wear make up everyday. On weekends, I'd only wear a little bit. But going to college every day I'd probably wear full foundation, eyebrows. This was actually a little difficult for me.
I was thinking about this interview last night, thinking 'oh god'.
The whole weekend I was thinking that I should drink so much water to clear up my skin. I don't have the best skin, and that's why I wear makeup. But I realize that that's the reason why I have bad skin.
So it's like a bad relationship.
Do you feel uncomfortable now, not having makeup on?
Not really, because I'm with friends. And that doesn't bother me. But if I was around new people or even in college where I don't know everyone, I would feel naked.
Where do you think that feeling comes from?
I don't think it's not being comfortable in my own skin. I'm quite comfortable.
I think it's more so because of the music world. I'm doing music, and a lot of women in that world always wear full face makeup and are really thin, beautiful, strong women. Being surrounded by all that it can be difficult going in with no makeup, and messy hair.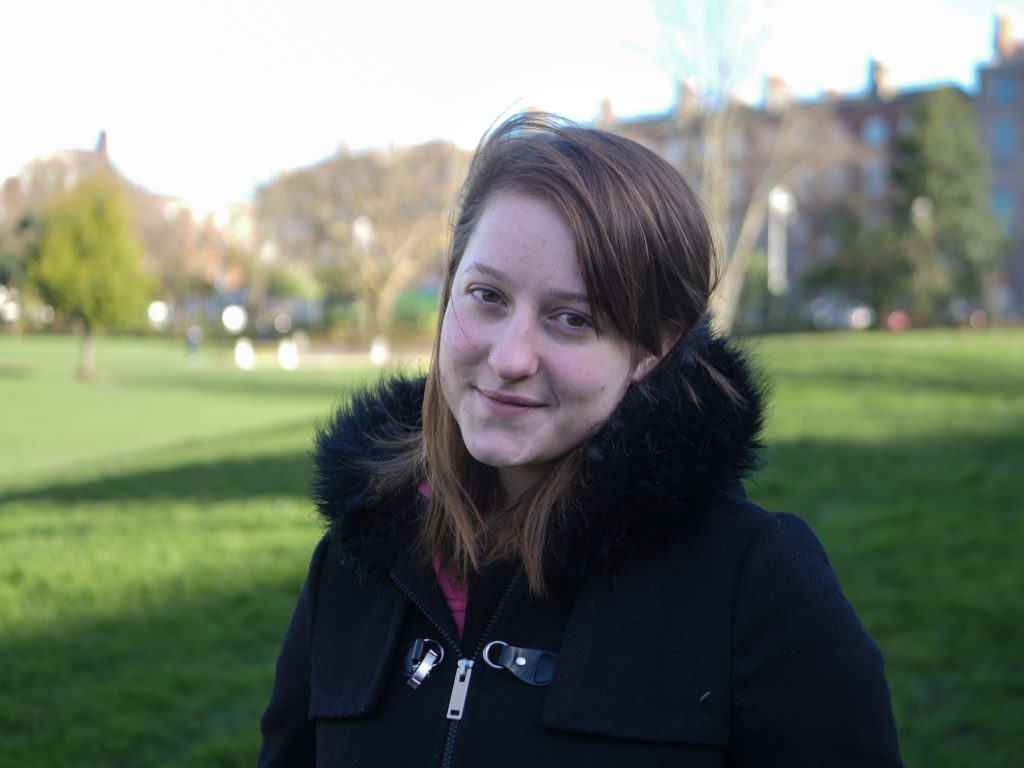 Do you ever feel a pressure to look a specific way when you're doing shows and performances?
Definitely. 100%.
I was doing an exam once, and the examiner said 'why are you wearing high heels?'
But then I've heard of other occasions where girls have been told off for not wearing high heels.
It's strange having someone look at you and judge you. They're not just judging your voice but how you look as well.
For shows, if I were to go on in a pantsuit, and no makeup, people would not respond to that well. It's even encouraged to wear fake tan so that you don't look pale on stage. But I'm Irish, I'm very much pale.
Could you tell me a little about what music you study? And how you got into it?
I study opera at the Royal Irish Academy of Music. I'm a soprano.
It's kind of a funny story of how I got into music. I've always loved music, but it used to be stuff like Britney Spears.
And then I was in the car with my Mum and she kept playing opera and I hated it. I kept saying, turn it off. Turn it off. Mum said, no 'I'm listening to this'.
I got really angry, because she would play it all the time. And it got to the point where the big part was coming up, the high bit. And I thought in my head, 'you know what? I'm going to scream this out loud'.
And I sang it really loud. And my Mum almost stopped the car. She just kind of looked at me and went 'huh'.
No one knew I could sing opera. I ended up getting lessons, and it all just went from there.
If someone were starting off in the music industry, what advice would you give them? How could they come to terms with the appearance based feedback?
It's difficult. Because I'm all for looking natural. I would love to rock into college and not wear makeup and not give a shit about my appearance so I would encourage that 100%.
But I do know that for exams and competitions and concerts… if you go to any of those without makeup, or without having a fancy dress, people don't respond to it well.
A lot of the times, you may get marked down for it.
It's bad that we live like this, and I really don't like it, but unfortunately that's the way that it is at the moment. So for someone new coming in, I'd say you're going to have to wear makeup for concerts and look the nicest that you can even if that isn't your own face.
Which is really sad in its own way.
It sounds like a lot of pressure comes from the industry itself. Do you think that pressure comes from the other singers as well?
I think I'm fortunate enough to be in a college where that's not the case.
Everyone seems to support each other and when I was doing my leaving cert, before I came into college, I assumed it was going to be really cut-throat.
I assumed people would be really bitchy, to be honest. I've never been so happy to be wrong in my life.
Everyone supports each other, it's a really great community. I really don't think it comes from other singers.
I think it's more so the industry, and what opera is. Even on stage, the makeup you have to wear, the wigs, the dresses.
I understand that that's stage makeup, and that's different. But maybe it's time for a change for concerts, and even exams.
Real conversations with real women about the impact makeup has on their lives.
Twitter | Instagram | Facebook