Real conversations with women about the impact makeup has on their lives.
Twitter | Instagram | Facebook
"We called that line underneath your chin where your fake orange foundation contrasted with your real skin color the slut line."

Cerys
"I must have been around thirteen when I started wearing makeup. And it wasn't a big, full faced makeup, contour and everything. It was just that I started noticing everyone else had eyelashes that where longer than mine. Their eyebrows were slightly darker and they were a little more tan and I was like, 'oh, how did they get that?'
Oh, makeup…
So I stole my Mum's mascara and then well, the scene phase happened. But we don't talk about that!
That was when the eyeliner started coming out. I wore no makeup except for under-eye eyeliner. I must have been fourteen, fifteen – something like that. And then times changed. I started wearing makeup a lot more, but no eyeliner.
Could you explain the scene thing to me?
Oh dear, yes.
I think that came around my mid teens. I discovered All Time Low and Black Veil Brides, and also joined Tumblr.
I think a lot of people can relate to that period of time!
I went to a few concerts actually, and I loved the style and I loved the makeup and I loved how different it was from everyone else. I stopped wanting to be the same tanned Penny's makeup kind of look.
I wanted to be different and stand out a little bit. Because my music was so different I wanted the way I look to reflect that as well.
Do you think it's fair to say that in both instances you were changing your appearance because you wanted to fit into a group?
Well that's exactly it.
I wasn't the only one who started discovering these new bands and this new kind of culture that was out there. My friends liked it too, and they were all doing the exact same thing. So obviously, to fit in with them, I wanted to join that.
I was always in-between the kind of very grunge scene side and the normal kind everyday look; whatever that is.
And I inched more towards that emo scene, but I still never really fit in. Because I was comfortable, I was fine not wearing makeup, and they weren't. So they had to look more like it than I did.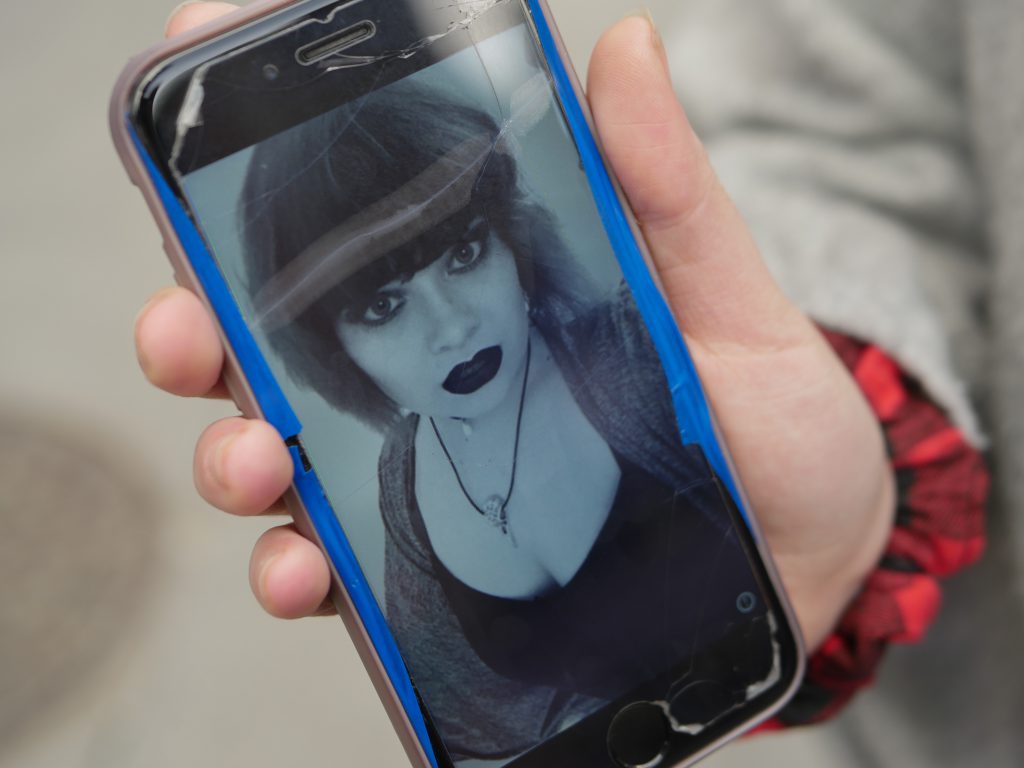 Where do you think you're at now in terms of makeup?
I think I'm very comfortable with how I look without make up on. Sometimes, though, I think everyone has their insecurities.
My skin isn't the best so I try to cover that up, but then I realize that I'm not looking at anyone else's flaws, so why would anybody be looking at mine?
Now I think my makeup is more a statement of everything that I've been through and all the things that I've experienced.
These scene phases, the old vintage stuff I love. I wear a lot of red lipstick. It's like my warpaint going in every day.
Whatever I'm feeling or whatever I need to do, if I'm feeling my scene phase again, I'll wear my purple lipstick. If I'm feeling my vintage phase I'll wear my red lipstick. It's who I am.
But also, not wearing makeup is who I am too. Because I like the natural look, and I like being comfortable around people.
It sounds like you've really gone from wanting to fit in, to just using makeup to express yourself.
Yeah, exactly, that's what it was. Because I hated getting up in the morning and having to go the bathroom to slap on some Maybelline or whatever just to go into school and worry. Is it too much, is it too little, do I have a slut line?
We called that line underneath your chin where your fake orange foundation contrasted with your real skin color the slut line.
I'd always worry if I had a slut line, or is my lipstick was too dark, or too light, or if it suited me. Now, even if my lipstick is too dark, I don't care. I like it. That's the thing; it's become my personality now.
Do you think that pressure back then came from yourself or from other people?
Probably a bit of both. I went to a very judgmental school.
I used to wear my skirt long, but everyone used to roll their skirt up. I didn't bother because I didn't really care, and I remember people whispering about oh, her skirt is long.
And it was exactly like that with how you did your hair, and how you did your makeup. I kind of stayed away from that crowd but you could never escape from that kind of judgement. So it came from that, but I was also very insecure in myself and how I looked.
So I decided to make my makeup more bold to distract from the fact that I was insecure about my body.
What are the people in your life like now? Do you think there's still that pressure?
No, not at all. I could roll into college with a big yellow circle drawn on my face and people would be like, 'oh, awesome Cerys, like what you're doing'.
Everyone is so cool.
I do still get those days where I get insecure. I worry people might think I'm weird because I'm the only one wearing black lipstick today, or something like that.
But then that goes away, because nobody does.
That worry is coming from myself, it doesn't come from any outside party.
And I just think that's the age group I'm with now. Everyone is more mature, nobody really cares, everyone understands that people go through their own things or just have different styles or opinions.
I'm more wise in myself knowing that other people don't care. They're not looking at me and judging me. People have their own things.
Real conversations with real women about the impact makeup has on their lives.
Twitter | Instagram | Facebook