Real conversations with women about the impact makeup has on their lives.
Twitter | Instagram | Facebook
"I've never really been totally comfortable with who I am as a person and makeup has allowed me to put a mask on. "

Hazel
"My relationship with makeup has basically been two things. It's been creative, for me to be happy with doing art on my face, but then there's the other side of it. I love to wear makeup because I don't feel like I'm me. I feel like I can be a different person with my makeup. I don't feel like I'm Hazel anymore; I can be a mermaid, I can be something else that isn't me. And I feel like my makeup is a bit like a mask, that's what I'd put it as. So going out today and having no makeup on is very strange for me. I also look very young without makeup on, which makes me uncomfortable.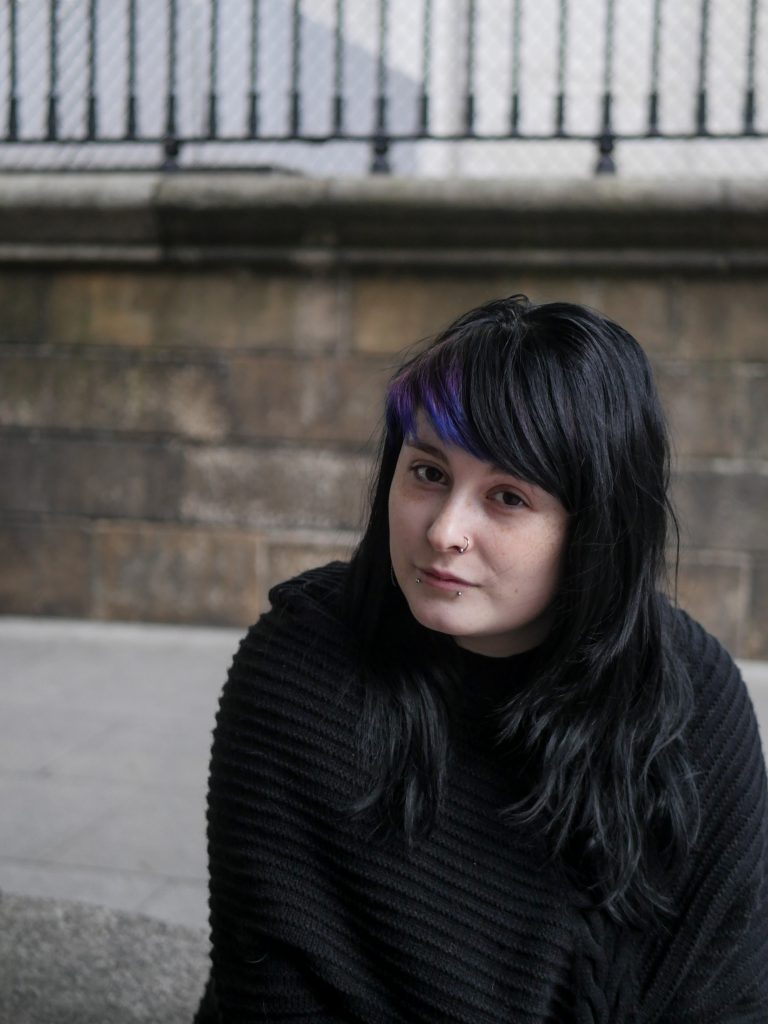 How old were you when you started wearing makeup?
I was young. I went through the emo phase, so I think I was about 12 when I started doing panda eyes. I had nothing except for eyeliner pencil all around the eyes and I literally just looked like a panda for the first part of my life. I progressed it as I got older, I moved on from just using the eyeliner.
So how would you use makeup day to day? Do you think there's a pressure to use it?
Three years ago I was in a fire accident and my face got really badly burnt and I had burns all over my body. I was in hospital for two months, and I had to relearn how to walk because the nerve endings in my legs had been burnt so badly. After that I had way more of a reliance on makeup because I was scared of going out with the scars from the burns on my face. They've thankfully disappeared now but when I was younger they were more there and for someone being in the music industry, being quite prominent in the music industry, I thought my career might be over.
It's so based on image, it's so based on looking sexy and all this stuff. I think it's only in the last year that I've become a lot more comfortable with not wearing makeup down to the shop that's near my house, not wearing makeup to the gym. I used to wear makeup to the gym. And I think that's the point. It took time for me to get the ability to not have to have piles of makeup on constantly.
Do you think there's pressure on women in the music industry?
Oh definitely, and it's not just makeup. It's weight, it's the way you dress, it's the way you act, there's a lot of pressure to look a particular way in the industry. And makeup does play a big part. I feel very young without my makeup. I'm 22, but I feel about twelve without makeup. The pressure in the music industry is quite large; the whole idea is you want women to look older than they are. I don't really understand that.
You get 12 year old girls wearing piles of makeup and wearing very short shorts and very low cut tops. When I was twelve the best I got was a piece of eyeliner and I wasn't trying to look older or look like anything except for what I wanted to look like. I think nowadays it's much worse. And the pressure with makeup; there's always a new brand, there's always a new popular thing that's come out. You need to wear this, you need to buy this and I think that's the problem with the industry nowadays. It's so materialistic, everything is materialistic. For example, I'd never do a gig without my makeup on. I'd never do an interview. I'd never do anything without my makeup, because it's such a performance. Even just talking to people about your band is such a performance. Makeup is almost like makeup in the theater, there's a lot of pressure."
What are your thoughts on makeup and self esteem?
My whole thing with makeup is being someone else. I've never really been totally comfortable with who I am as a person and makeup has allowed me to put a mask on. It's being able to be someone else. I suffer severely with depression and anxiety and I have since I was about twelve, and I think makeup for me is a mask. That's the best way I can describe it's. It's a great mask that allows you to feel less scared. Less scared to be who you are, and it hides your emotions more. It's a weird one, but I think that's how I'd describe it.
What would you say to young women who are struggling with their self esteem?
Makeup can be brilliant, and it can bring out such creativeness in people. It can allow you to change, it can allow you to be artistic, but I think the thing with makeup is you need to allow yourself to still be a kid. Don't grow up too fast, don't try to be twenty two when you're not. Be a child, be a kid, enjoy your life. Don't rely on makeup, don't rely on hair curlers and all that stuff. Go out and enjoy your life.
Everybody in this world looks different. Everybody has their flaws, nobody is perfect. There are people who can edit themselves to look perfect, and there are people who can pile on a lot of makeup to look perfect, but in truth everyone is unique in their own way. In the end you need to at least try to accept yourself for who you are.
Could you tell me more about your burn injury?
The fire did a lot of damage to my self esteem. About three or four months after the fire accident I got a boyfriend. And I remembered being extremely nervous to be without makeup in front of him.
I remember going to sleep with makeup. I remember waking up before him and fixing the makeup. And it was because of the burns. They weren't that prominent. They were very bad when they happened but they weren't that severe. I wasn't severely scarred or anything.
It was just my skin was a different shade at the time. And I just remember feeling so insecure about it. And makeup was the thing I turned to to stop myself feeling that way.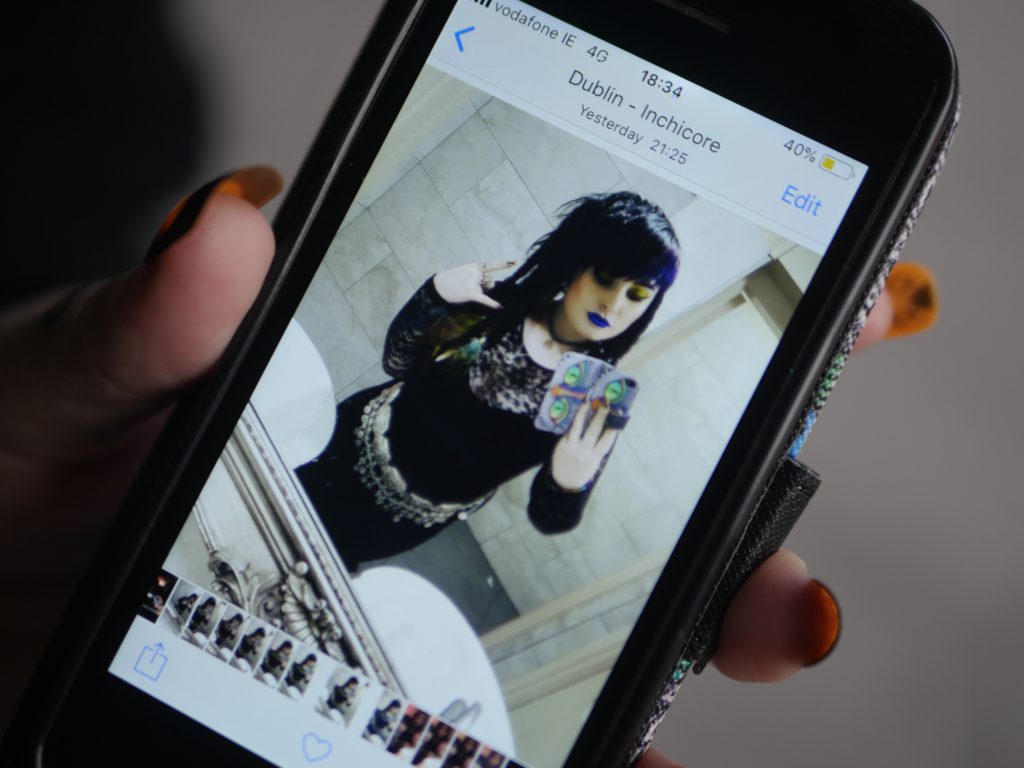 Is there anything else you'd like to add?
If you watch television, the first thing you see is an ad for new makeup, new perfume, new anything. They're forcing it down your throats. If your friend gets it, then your other friend gets it and then it becomes a herd of sheep telling you you need to buy the latest makeup and wear it, and wear it well.
I think the main thing people need to do is try not to be sucked into the industry. And if you are doing makeup, be creative. Don't copy someone else's makeup, just do your makeup. All my makeup is very fun and weird. It's rarely natural. I like being weird when it comes to makeup."
Real conversations with real women about the impact makeup has on their lives.
Twitter | Instagram | Facebook