Oh lordy, this is the lottery: this is digging in the backyard for gemstones, this is being struck by lightning twice but even more improbable – just impossible, really. We're on the boat, the Scotsman tells a story, I'm riveted: "Loch Ness", he says, "Is larger than every body of water in the UK put together, and it's cold at the bottom" – so cold, he explains, that rot just doesn't happen.
Nothing decays: the whole thing is a perfect preserver.
"It's maddening," he says – "my clan is from around here, so there's probably my family just lying at the bottom: they'd battle here on the water sometimes, so their boats, their clothes, them: biggest untapped treasure chest just lying on the rocks beneath us."
Gods I am curious: I am picturing it, Outlander gone wrong/water, evidence worth a goldmine to historians, but impossible to see. Weeds and water grass make the whole thing unscannable, and minerals and peat in the water reflect all light, so even if you were able to take a small sun to the bottom of the Loch all you'd see would be particles a foot in each direction.
This is saddening not just for the historical significance, but because it means one of the worlds greatest mysteries will never be solved (and is maybe why it exists in the first place). Who is she, the Loch Ness monster? Is she just a jumbo sized catfish, introduced to the Loch in the 1800's by the locals, who were hoping to grow them and eat them? The catfish were introduced, interestingly, around the time that Loch Ness Monster sightings started to spike– but the fishing of catfish also meant people might have just been around more often to catch a glimpse of something else ;).
Personally, before we went on the Loch Ness tour, I thought the whole monster thing was a bit silly. Who would really care? Scientists have ruled out the possibility of long necked creatures surviving in the cold water, submarines have scanned the whole thing back to front. But being on that boat, eating our homemade sandwiches as we watched the sonar screen pinging against the Loch floor below us, I started to think the whole thing was quite romantic.
Our boat guide pointed out a few landmarks to us; a crash of stones on one side of the lake, where the monster allegedly tried to escape the loch before sliding back down into it, and an island surrounded by fragments of burnt wood, implying that some smart fellow had put up shop there in years past and destroyed the bridge anytime someone got too close.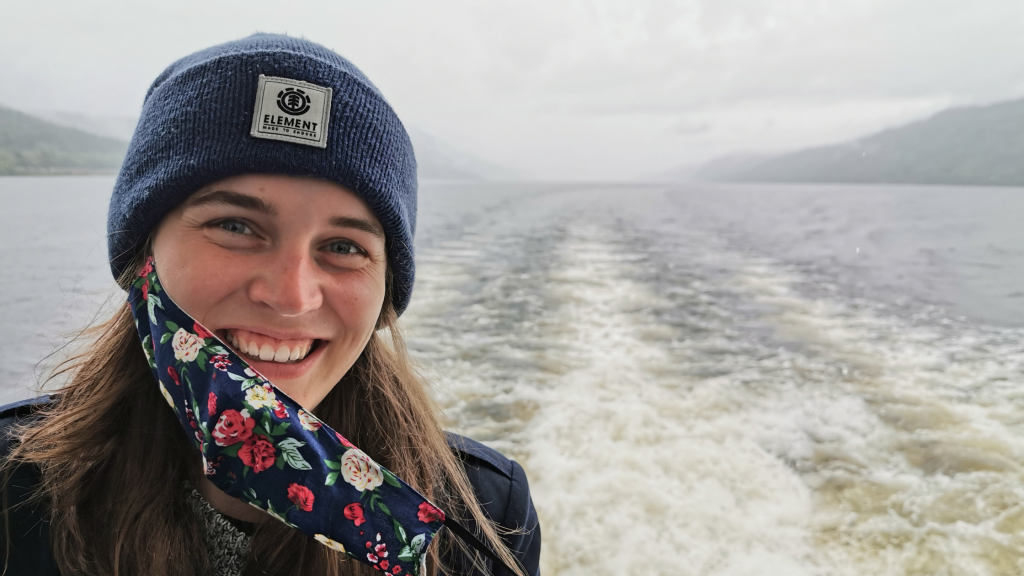 There is no denying the highlands are breath-taking, but they're also heartbreaking: this place used to be so full of trees that traversing it was difficult, and history states it was lush. Now, we drive past miles and miles of bare grass and stone. I wonder if this is climate change, or farming, or wood harvesting, or simply the passing of time. Our bus guide tells us that many of Scotland's pines and plants are extinct, and that they're attempting to replant with "close enoughs" from nearby regions. For each tree cut, he tells us, a tree is planted: I wonder if enough of them take to keep the ratio? The scheme implies the trees were cut down and this initiative is an attempt to undo the damage, but I can only speculate.
I picture the invention of a bicycle here: a wheel with a small spike attached on the side, which connects to a tank each time the spike is facing upwards. There, it would grab a seed, and then on rotating downwards, plant it. I picture myself cycling across the highlands, day after day, planting rows of trees in lines behind me, until there are enough that they can fill the gaps left between them via natural causes.
The mountainscapes are truly stunning. We get on our Loch Ness tour bus early in the morning, on a rainy Monday, and spend the day watching the downpour form seemingly endless waterfalls. I am not disappointed by the weather; if anything, it adds to the scenes before us: I can imagine this wild and rich and wonderful.
Our bus is the first to depart since COVID; we have timed our trip to intercept with the reopening of most Scottish attractions, and our bus driver is as enthusiastic as he is rusty. He is confused by the roads which have been built in the meantime, consistently plays the wrong songs on his playlist, and has a joy so tangible that it reaches us in the back seats.
He tells us a number of stories; of how the Scotsman wore kilts and socks in order to navigate the thorns and underbrush in a way enemy soldiers couldn't, and how they would wrap their kilts – meters and meters of fabric – around themselves in order to tuck themselves to sleep in the heather. Protected by their clothes and held by the plants, the dense foliage wouldn't let them touch the ground: they'd simply sink in a good way, and then be able to rest until morning. The sheep we see spotted around are the same as in Donegal; we are told they were a gift from the British. We drive, breathless, past an enormous statue of William Wallace proud on a cliff in the distance, wreathed in fog but unmissable.
I learn here too that Mary, Queen of Scotts, whose bedroom we had stood in two days earlier, spoke in a French accent after having been educated there. Although Saoirse Ronan had done an admirable job at mastering the Scottish accent for Mary Queen of Scots, our bus driver informs us that – actually – she'd gotten Mary's real voice as wrong as was possible.
We see castle after castle, drink coffees and eat caramel brownies at rest stops, sanitize our hands compulsively and take polaroid after polaroid. I am surprised to hear at how far abroad the Scottish have gone, and which countries they've fled and moved to. As an Australian, I'm not as well versed in history as the Europeans, and this is all news to me: I'm fascinated. I'd known about the clans and their struggles, but I'd never really considered that they had gotten up and left in ships and droves to new places, instead of simply disappearing with time.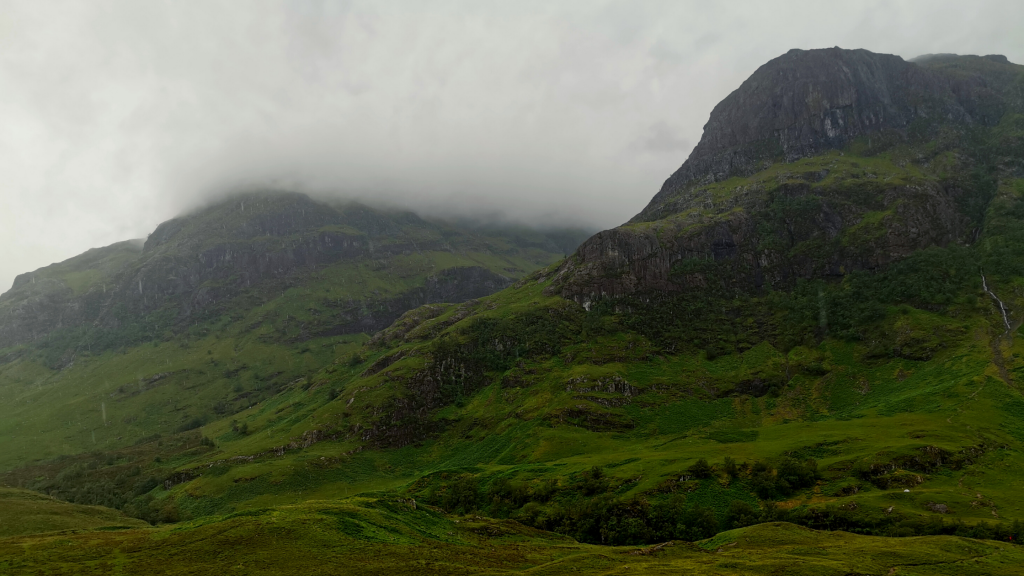 Our bus takes us all the way to the Loch, and it's there we disembark for our ferry; and – entirely irrationally – a part of me is admittedly hopeful. The theorizing is fun. What could she have been? I can't help but picture some kind of reptile or fish, a species now extinct, which lived in the lake, a lungfish maybe, something slow moving and cold blooded.
I doubt she would have been one of a kind, although some species have been known to live for hundreds of years; she might have been the last one left through freak circumstance. Whatever she is or was, I can only assume she's dead now, unless some small, modern version of her is hiding in the network of caves on the side of the loch. There's not much to eat, the water is cold, she must be slow moving – maybe a cave dweller, sitting and waiting for the odd fish to move by, preserving energy to maintain her size.
⭐⭐